Wayne County / City of Richmond
Geographic Information System
GIS Coordinator: Gunty Atkins
(765) 973-9483
Open Monday through Friday 8:00 AM - 5:00 PM

---
Before you access the Wayne County GIS internet site for the first time, it is recommended that you read the Frequently Asked Questions (FAQ) - Getting Started. If you have read this already click the button below to connect to the server.
Additional maps, downloads and supporting documents are also available on this page.

---
MAP ISSUES WITH INTERNET EXPLORER 8 (map is not displaying correctly)
COMPATIBILITY ISSUES WITH PRINTING IN WINDOWS 7
MAP ISSUES WITH INTERNET EXPLORER ON WINDOWS 8
FAQ - Getting Started
I am unable to see the map on the GIS website. What is wrong?
You must have a plugin (program) installed on your computer to view the maps. This plugin can be downloaded for free by clicking on the link on the GIS website (see image below) or you can download it from AutoDesk™ at this website address: http://download.autodesk.com/esd/mapguide/sp1/eng/mgcontrol6.5sp1.exe . The website also works best with Internet Explorer 5.5 or higher web browser.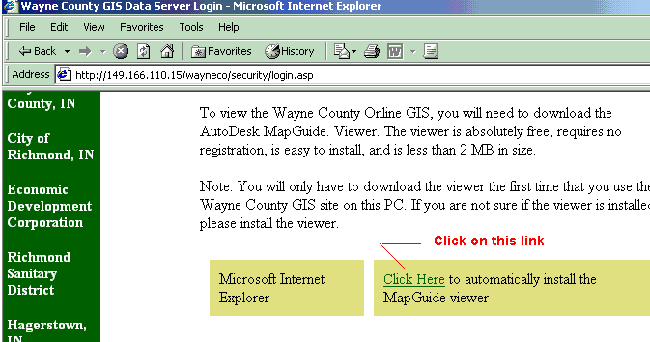 This page is the page after you login to the GIS website.
You can also can also view this document for further instructions: Viewer Download Instructions.
I put my address into the Parcel Search Form and it doesn't find anything. What's wrong?
It is best that you just enter the minimal information into the form so that it gives you more results to choose from. Also, some things have been abbreviated to compress the database so that it searches faster. These abbreviations include:

| | |
| --- | --- |
| Word | Abbreviation |
| State Road | SR |
| North | N |
| South | S |
| East | E |
| West | W |
| Southwest | SW |
| Northwest | NW |

Also numbers do not have their extensions, example: 3rd is just 3, 4th is just 4, etc.

When searching by name, just enter the last name then select from the list.
What is GIS?

A Geographic Information System (GIS) is one of the best tools currently available for managing geographic information. It is estimated that about 85% of the information managed by cities and counties is geographically referenced in some way, such as the location of a building shown on a map. Examples of geographic information are addresses, parcels, district boundaries, the spatial distribution of health statistics, roads, washes, buildings, and utility locations.
The definition of GIS varies depending on specific applications, but generally it is described as a computer-based system with the ability to store, retrieve, modify, analyze, and represent geographic data as useful information.
A GIS can be useful for relating mapped features and their attributes (non-graphic information associated with features) in two ways. First, the actual feature from a map, a sewer manhole for example, displayed on a computer screen may be pointed at electronically and used to access and display all of the attributes contained in the computer's database regarding that feature - the year it was installed, its material, diameter and capacity, etc. Second, the database itself can be queried to display only those features selected in a way which may give it meaning. An example of this is choosing all parcels of land selling for between fifty to sixty thousand dollars in the last year, delineating the areas where the highest rate of real estate transactions occurred in that price range.
Many government agencies are utilizing GIS because it offers a way of understanding and dealing with complex spatial problems by organizing the data, viewing their spatial associations, performing multiple analyses, and synthesizing results into maps and reports.
GIS technology is very useful, allowing the public and many different departments access to the same basemaps and database. This means that each department does not have to keep separate versions of other department's maps and data in order to use them for their own agency's needs. Features or attributes need to be modified and updated on only one basemap and database and then be shared by everyone. Departments can portray mapped information at whatever scale they require, using the colors or symbols they want and accompany the maps with text and reports tailored to meet their needs.
What is Metadata?
In short, metadata is data about data. The following brief description explains it well. It is from ESRI ARC/INFO help text.
Spatial metadata is data that describes the content, quality, condition, use limitations, and other characteristics of a spatial dataset. Metadata also documents bibliographic information about a geo-dataset, such as who collected the data, when it was collected, how it was collected, preprocessed, and converted, its resolution, who holds the data now, and so on.
Metadata is also referred to as additional information that is needed for a spatial dataset to be useful. Such information facilitates understanding of the data and its content between the provider and the user. It helps users to ensure that a dataset meets their needs and that they use the dataset appropriately.
Clearly, on-line spatial metadata, including a brief sample, is the most effective means to tell you if a dataset matches your project's needs. It allows you to evaluate the benefits and shortfalls involved prior to purchasing and using a dataset.
What are the best settings for my computer to view the data?

It is recommended that you have your Display Properties set to at least 800x600 screen area and your Colors set to at least 265. To access these settings right click any blank area of your desktop and go to properties, or go to Start>Settings>Control Panel>Display.
Mapguide Viewer- To view the Wayne County Online GIS, you will need to download the AutoDesk MapGuide™ Viewer. The viewer is absolutely free, is easy to install, and is less than 2 MB in size.
Note: You will only have to download the viewer the first time that you use the Wayne County GIS site on this PC. If you are not sure if the viewer is installed, please install the viewer.
Adobe Acrobat Reader- To view some of the supporting documents you must have this free viewer installed. This allows you to view "PDF" files which, is a standardized file format.
Supporting Documents
Wayne County Resource Inventory Council
Resource Maps for Land Use Planning. Includes historical maps, geological and utilities as well as others.
Other GIS Sites
US Geological Survey
Indiana Water Quality Atlas
https://www.in.gov/idem/cleanwater/
Indiana Geological Survey - Interactive Maps and Geospatial Data Downloading
https://igs.indiana.edu
Indiana University - Kelley School of Business - Indiana statistics and research
https://ibrc.kelley.iu.edu//
Center for Advanced Applications in Geographic Information Systems (CAAGIS)

Indiana Geographic Information Council (IGIC)
https://www.in.gov/igic
Credits
The GIS is the result of a combined efforts and funding of Wayne County Government, City of Richmond, Economic Development Corporation, and Town of Hagerstown, Indiana.